September 2019
By Catherine Killough
A new letter from North Korean leader Kim Jong Un to U.S. President Donald Trump could raise hopes that stalled U.S.-North Korean nuclear negotiations could resume in late August, Trump said Aug. 9. Both leaders apparently remain open to diplomacy, even though North Korea has conducted multiple missile launches since July and the United States and South Korea announced plans to resume joint military exercises.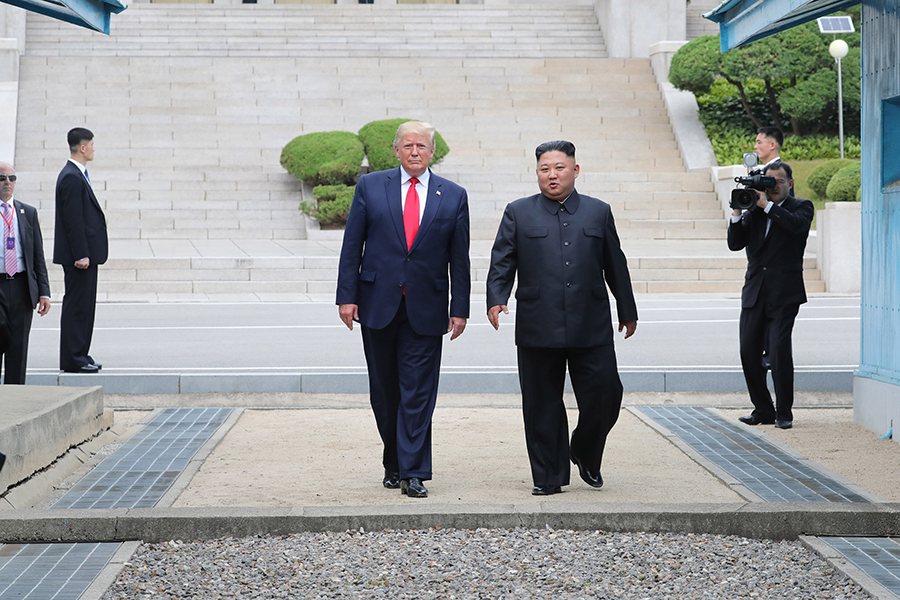 "He really wrote a beautiful, three-page—I mean, right from top to bottom—a really beautiful letter. And maybe I'll release the results of the letter, but it was a very positive letter," Trump told White House reporters.
Kim is planning to stop testing missiles when U.S.-South Korean military exercises conclude at the end of August, Trump said. The ongoing exercises are a modified version of the annual large-scale Ulchi Freedom Guardian exercises that Trump previously labeled "provocative" and canceled at the 2018 Singapore summit.
The North Korean Foreign Ministry initially raised objections to U.S.-South Korean plans to resume military exercises in July, asserting they would constitute "a breach of the main spirit of the June 12 DPRK-U.S. Joint Statement." In the press conference following the Singapore summit, Trump stated, "We will be stopping the war games," but offered few details on the suspension of future exercises.
The North Korean Foreign Ministry warned, "With the U.S. unilaterally reneging on its commitments, we are gradually losing our justifications to follow through on the commitments we made with the U.S. as well," most likely referring to Kim's voluntary moratorium on nuclear and long-range missile testing in April 2018.
North Korea has not technically violated that moratorium, but it has conducted six rounds of short-range ballistic missile tests in the span of a month. The increasing frequency of tests may be North Korea's attempt to build leverage ahead of the possible resumption of nuclear negotiations with the United States.
South Korea has sought to assure Pyongyang that the joint military exercises are part of preparations for the transfer of wartime operational control from the United States to South Korea.
Meanwhile, Trump continues to characterize joint military exercises as costly to the United States and argues that South Korea should contribute more to defense burden-sharing costs. "We get virtually nothing" for stationing U.S. forces in South Korea, Trump said on Aug. 7. South Korea currently covers about half of the overall cost to host the U.S. military, in addition to having funded the nearly $10 billion expansion of the U.S. Army base at Camp Humphreys.
This month, Washington and Seoul restarted negotiations on the Special Measures Agreement, a U.S.-South Korean military spending pact, which expires on Dec. 31. The financial dispute could pose a strain on the alliance and further complicate diplomatic efforts with North Korea as Kim has also set a deadline "for a bold decision" from the United States by the end of the year.
Possibly in the hopes of holding a fourth summit, Trump and Kim have avoided trading direct insults and even held a brief meeting on June 30 at the Demilitarized Zone, where Trump became the first sitting U.S. president to set foot in North Korea. The two leaders praised the strength of their relationship and agreed to restart working-level talks, but there were few official remarks regarding North Korea's nuclear weapons program or the prospects for advancing denuclearization and peace.
In a recent sign that preparations for working-level talks are underway, Stephen Biegun, U.S. special representative for North Korea, visited Seoul in late August to meet with Japanese and South Korean officials "to further strengthen coordination on the final, fully verified denuclearization" of North Korea, according to the State Department.
The announcement came as reports have emerged that Biegun is under consideration to succeed the outgoing U.S. ambassador to Russia. If confirmed, it is not clear who would take the U.S. lead on working-level negotiations with North Korea.