September 2018
By Shervin Taheran
Vice President Mike Pence announced on Aug. 9 that the Trump administration aims to create a Department of the Space Force by 2020, citing space as a growing conflict domain amid military advances by Russia and China that threaten U.S. dominance in that realm.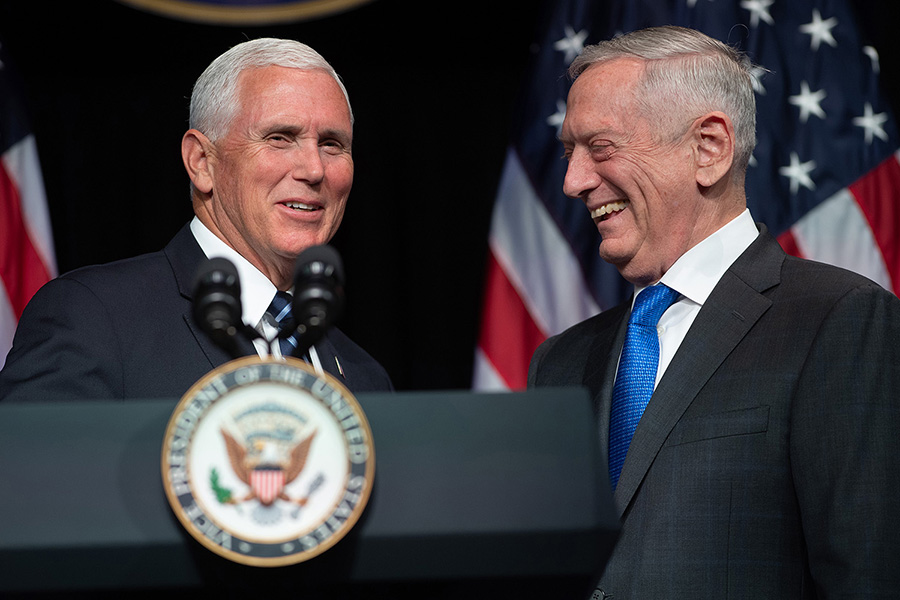 Pence's speech at the Pentagon expanded on President Donald Trump's June speech, in which he said just as the United States has an Air Force, "we are going to have the Space Force, separate but equal."
Such a development likely will come with calls for additional military spending on personnel and space weapons, even as elements of Congress and the military leadership are cool to the Trump initiative. A new spending pipeline for offensive and defensive space weapons is an appealing prospect for defense contractors, an influential industry with lawmakers.
Pence said the administration is determined to act in order to "meet the emerging threats on this new battlefield." There are few international restrictions on the weaponization of space, other than the 1967 Outer Space Treaty, which bars states-parties from placing weapons of mass destruction in outer space and prohibits military activities on celestial bodies. Since the mid-1980s, the UN Conference on Disarmament has periodically debated provisions for a potential "prevention of an arms race in space treaty," with the United States the dominant opponent of such a measure.
To prepare for creation of a new military branch, the administration plans to take four major actions in the next year: establish a Space Development Agency, affecting the Air Force's Space and Missile Center; develop the Space Operations Force, to support the combatant commands; create a U.S. Space Command led by a four-star officer; and create a post of assistant secretary of defense for space, a senior civilian position.
Pence called for this new Department of the Space Force with a "secretary of the Space Force," implying the creation of a military service alongside the departments of the Navy, Air Force, and Army. But Deputy Defense Secretary Patrick Shanahan, at a news media roundtable after the speech, said that "whether we call it a space corps or a department or a sixth branch, I think this goes to the next step, working with Congress."
Much of the administration's vision, most notably the creation of a sixth military branch, will require organizational and financial action by Congress. The administration plans to submit a legislative proposal by February for fiscal year 2020. Military services have powerful constituencies, and taking space activities away from the Air Force, if that is intended, could draw pushback.
Trump's proposal has support among some House members, particularly Reps. Mike Rogers (R-Ala.) and Jim Cooper (D-Tenn.), the chairman and ranking member, respectively, of the House Armed Services strategic forces subcommittee. Rogers and Cooper have long been vocal advocates of a new structure for the military's space activities, noting in a joint statement that they "look forward to the establishment of a much-needed independent Space Force."
In its version of the fiscal year 2018 National Defense Authorization Act, the House had included a "Space Corps" that would have been similar to the Navy Department's Marine Corps in that it would be created as a unit within the Air Force. But the provision did not survive opposition from the Senate and the Pentagon. In a 2017 letter to Rep. Mike Turner (R-Ohio), Defense Secretary Jim Mattis wrote, "I do not wish to add a separate service that would likely present a narrower and even parochial approach to space operations."
Mattis has since moved to align himself with the commander in chief, saying to reporters Aug. 12 that he "was not going against setting up a Space Force; what I was against was rushing to do that before we define those problems." The Pentagon is "in favor of war-fighting capability organized along the lines of what the president has laid out," he said.
Many members of Congress, however, remain dubious, especially as the Trump administration has yet to release the cost estimates. Shanahan declined to cite a specific estimate, but noted that it would likely be billions of dollars.